Happy Saturday Everyone, 🌺  
I trust that you are doing well and that your beautiful families are safe and sound. Today, I celebrate the Life and Legacy of Bishop Dr. Barbara L. King. I'm keeping her beautiful family and the Hillside International Truth Center family in my thoughts and prayers as they commemorate and celebrate her Homegoing.
In this photo, we dined at one of her favorite restaurants near her home. We had a great time of laughter and conversation! Though my heart is heavy, I choose to remember the wonderful times. That includes her giving me a tour of her beautiful home and showing me photos with and sentimental gifts from world leaders, hosting me at her church for my book signing, and sitting down for an interview with me.
Dr. Barbara was a mighty woman of God who spoke life into every person that she met. She was an AWESOME encourager who motivated each of us to be our very best. When I greeted her, I would say, "All Hail the Queen". I had an audience with The Queen on Saturday, August 15 when I interviewed her via Zoom for a special series for Ashro called Onward & Upward with Leslie E. Royal. We spent a little over an hour talking about her amazing life from her youth to the recent celebration of her 90th birthday.
She was such a beautiful and kind spirit. Her episode called "A Spiritual Awakening with Bishop Dr. Barbara L. King" posted on September 17, 2020. I spoke with her that day by phone as we prepared for her Watch Party premiering her interview. She quietly thanked me for the interview, and I shared with her that it was indeed my pleasure.
I will be forever grateful for the blessing that she has been in my life. Please click on this link to view our conversation in which she inspired me so. I trust that it blesses you as we remember and pay homage to one of the greatest leaders who ever lived.
Sincerely,
Leslie E. Royal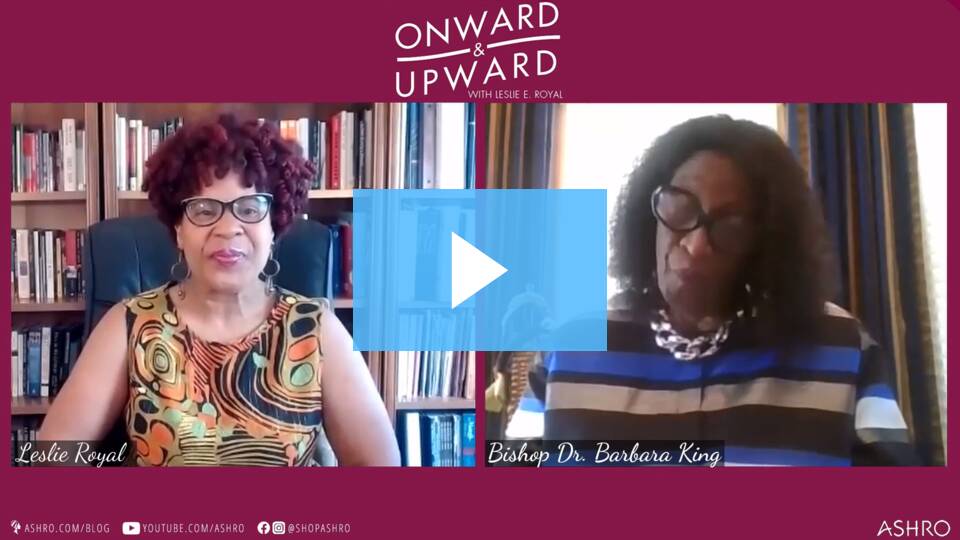 Onward & Upward: Ep. 2 with Bishop Dr. Barbara King | Ashro Celebrate Blog
https://www.ashro.com/blog/onward-upward/bishop-dr-barbara-king/
https://www.ashro.com/blog/onward-upward/bishop-dr-barbara-king/
| | |
| --- | --- |
| | Onward & Upward: Ep. 2 with Bishop Dr. Barbara King | Ashro Celebrate BlogDr. Barbara Lewis King, affectionately called "Dr. Barbara", Founder Minister/World Spiritual Leader of Hillside International Truth Center, Inc., a New Thought, Inclusive, healing ministry open to all people, headquartered in Atlanta, Georgia. Hillside began with a prayer group of twelve in Dr. Barbara's home in 1971 and has members and supporters worldwide, including outreach …www.ashro.com |